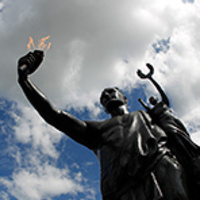 Aloha Oe Ceremony and Luau
All graduating seniors are invited to attend the Aloha Oe Ceremony and Luau to celebrate their accomplishments. The ceremony will be held at 8:00 p.m. on Wednesday, May 9, on the lawn in front of Ayres Hall.

Graduating seniors should meet in the Alumni Memorial Building Cox Auditorium at 7 p.m. dressed in their caps and gowns to line up for the ceremony processional. In the event of inclement weather, the ceremony will take place in the auditorium.
Following the Aloha Oe Ceremony seniors are invited to celebrate together at the Aloha Oe Luau held in the concourse area of Gate 21, Neyland Stadium. The Luau features food, music, giveaways, and more.

This ceremony is a long-standing tradition that allows the Class of 2018 to come together, one last time, to bid farewell to UT. Seniors will pledge their loyalty to the university and pass the "Torch of Service," to their fellow students to inspire them to be leaders in their community.
#utgrad2018
Wednesday, May 9, 2018 at 8:00pm to 10:00pm
Ayres Hall, Lawn
1403 Circle Drive, Knoxville, TN 37996
Event Type

Topic

Audience

Tags
Cost

n/a

Group

Hashtag

Contact Name

Office of the Student Government Association

Contact Email

Contact Phone

865-974-2377

Subscribe