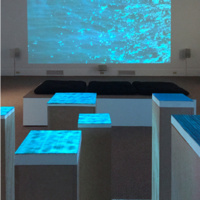 Artist Lecture: Pat Badt and Scott Sherk
Join us for a lecture by artists Pat Badt and Scott Sherk.
Pat Badt is a painter who also makes unique books. She has been the recipient of many awards and prizes including a National Endowment for the Arts grant in painting. She has exhibited in Brussels, New York, Philadelphia, Los Angeles and places between. Her work is included in collections at the American Embassy in Riga, Latvia, the Ruth Hughes Collection of Artist Books at Oberlin College, Bryn Mawr College, University of Tennesee and the Allentown Art Museum.

Pat Badt's work is inspired by location, filtered through experience and sensibility. She lives in an old farmhouse along the Jordan creek, surrounded by apple orchards, low mountains and the convergence of two creeks. Her work is about process, the putting down of paint through the appropriate handwriting, color, texture and scale.

Pat Badt is Professor Emeritus at Cedar Crest College. She received her MFA from the University of Pennsylvania and her BA from the University of California at Santa Cruz.

Scott Sherk is a sculptor who often works with sound. He has exhibited widely including exhibitions at the Katonah Museum of Art, the Allentown Art Museum, the Kim Foster Gallery NYC, and the Leslie Cecil Gallery NYC. His exhibitions have been favorably reviewed by the New York Times and ArtForum. His sound work has been released on CD by 3Leaves, and/OAR, and net releases by Stasisfield and Wandering Ear.

Scott Sherk was a Professor of Art at Muhlenberg College. He has been a recipient of the Class of '32 Research Chair and twice recipient of the Hoffman Research Fellowship. He is currently an Artist-in-Residence.
This lecture is in conjunction with the 71st Annual Student Art Competition held in the Ewing Gallery of Art and Architecture from February 21 - March 8, 2018.
Wednesday, February 14, 2018 at 6:30pm to 7:30pm
Art and Architecture Building, 109
1715 Volunteer Boulevard, Knoxville, TN 37996
Event Type

Topic

Audience

Website
Department

Hashtag

Contact Name

Sarah McFalls

Contact Email

Contact Phone

865-974-3200

Subscribe