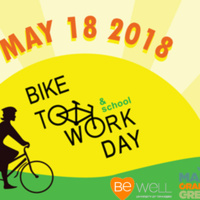 Bike to Work Day
In collaboration with Be Well, we will be out front of the Student Health Center with some gives aways for indivuduals who biked to work!
Stop by on your bike to recieve free food and SWAG!
The Allan Jones Aquatic Center will be open for UT employees to shower once they arrive to campus after biking. Employees can use the guest locker rooms located on the first floor of the building.
Friday, May 18, 2018 at 7:30am to 9:00am
Student Health
1800 Volunteer Blvd, Knoxville, TN 37996
Event Type

Topic

Audience

Tags
Department

Hashtag

Contact Name

Carolyn Brown

Contact Email

Contact Phone

8659747386

Subscribe