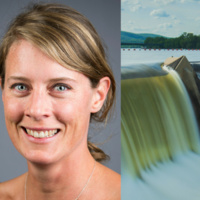 Energy & Environment Forum featuring Desiree Tullos
Dams are critical, interdependent elements of society's water infrastructure. As that infrastructure ages and environmental values and laws change, the management and operations of dams and reservoirs are also changing. These changes pose new challenges in, and highlights interactions between, the engineering, ecology, law, and socio-economics of dams. This seminar will emphasize the uncertain, but critical interactions that make dams an archetype of complex systems. First, current research on the science, management and community of dam removal will be introduced, with emphasis on how science is informing management, policy and engineering design. Next, research on the reoperation of reservoirs under climate change will be presented, including the application and limitation of models and decision frameworks. The seminar will close with motivations for teaching and research on the engineering of complex hydro systems.
Thursday, February 15, 2018 at 1:00pm to 2:30pm
Howard Baker Center, Toyota Auditorium 1640 Cumberland Ave.
Event Type

Topic

Audience

Website
Department

Contact Name

Elizabeth Woody

Contact Email

Contact Phone

865-974-0931

Subscribe