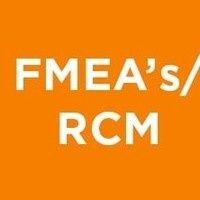 FMEA's/RCM for Improving Uptime
Course Description:
Failure Mode and Effects Analysis is a very effective problem-solving tool for the reduction of risk and failure prevention in design, process, and continuous improvement activities. This course will give you a working knowledge of the FMEA process as it is applied, and will reduce your company's risk of costly mistakes.
In addition to course material, participants will use in class exercises to learn how to recognize the shortcomings of a product/equipment design or an operational process by identifying failure modes based on past experience. Failure mode identification allows the FMEA team to then design out those modes, based on the assessment of risk, impact, and likelihood of occurrence, which will result in increased reliability and avoidance of costly repairs and downtime. This training will significantly improve the product and process development cycle from both cost and time standpoints at your facility!
Who should attend? This course is intended for practitioners interested in reducing the risk of product and process failures, including those in the fields of reliability, manufacturing, quality, design/development engineering, and safety. Teams are encouraged to attend!
Benefits of conducting an effective FMEA/RCM are:
Improvements in products / process quality, reliability, and safety
Increased overall equipment effectiveness (OEE)
Reduced development time
Early detection and elimination of product / process failure modes
Documentation evidence of organizational "due care" in design activities
Reduced warranty costs and increased customer satisfaction
Course Takeaways:
A working knowledge of the 10 steps required to perform an FMEA
An understanding of how FMEA fits into your improvement "tool kit" (RCM, RCA, VSM, etc.)
How to use a FMEA to solve problems and develop R&M Strategies
The ability to conduct and participate in the FMEA process – proactively to prevent failures and reactively to solve problems
How to select the best failure avoidance strategy
It's about being able to know why, when and how to do an effective FMEA
This class is being offered "back-to-back" with the PM Optimization Implementation course (offered on April 18-19, 2018), so they can be taken together or individually based on learning needs
Included:
The Basics of FMEA,
2nd Edition Included in
Registration!
Instructors:
Dr. Blache has over 30 years of experience in various areas of manufacturing and continuous improvement (processes, products and people). Included are areas such as lean manufacturing, reliability & maintenance, competitive analysis, continuous improvement tools & techniques, new facility planning and implementation, industrial engineering, ergonomics, and change management. In the past seven years he has visited/worked with about 200 facilities and has written and lectured globally in numerous technical and management areas. Klaus is currently at the University of Tennessee as the Director of the Reliability & Maintainability Center and Research Professor (College of Engineering). Prior to that, his most recent corporate assignments were Manufacturing Engineering Director (Cadillac), Engineering Launch Manager (new assembly plant), Global Manager of Manufacturing Reliability & Maintenance, and Manager – Corporate Industrial Engineering for General Motors. His experiences include implementing large changes and sustainable continuous improvement all around the world, developing a Corporate R&M process and global implementation, plant assessments/benchmarking and numerous related assignments. Klaus is also a past Chairman of SMRP (Society of Maintenance & Reliability Professionals).
Tom Dabbs is a consultant with The University of Tennessee RMC (Reliability & Maintainability Center). A powerful and engaging facilitator, instructor, coach and practitioner, Tom has over 35 years experience in delivering equipment reliability strategies and reliability focused asset management solutions. Tom has delivered solutions in mining, metals, forest products, automotive, chemicals, food processing, petrochemicals, pump manufacturing and general industries.
Prior to joining UT-RMC Tom worked for DXP Enterprises where he served as Director of Smart Reliability responsible for developing and on-board continuous remote condition monitoring system for the rotating equipment manufactured by DXP. Prior to that Tom worked for ITT Goulds Pumps where he served as Program Manager for Asset Management responsible for developing and deploying an asset management program for customer pumping systems. Tom also worked at Life Cycle Engineering (LCE) where he served as Vice President of Operations responsible for building and managing reliability focused consulting practice and delivering reliability driven transitions from reactive to proactive maintenance for a number of Fortune 500 customers. After a four year stint in the U.S. Navy where Tom learned the fundamentals of maintenance as an Aviation Electronics Technician Tom attended Clemson University where he earned a Bachelor's Degree in Electrical Engineering and spent several years with Fluor Daniel where he served in all areas of their maintenance operations including a maintenance consulting practice concentrated on implementation of Proactive Asset Management.
An accomplished author and speaker, Tom has published numerous articles and delivered hundreds of seminars and workshops worldwide.
Note: 2nd Instructor may be substituted based on availability.
*Optional Nissan Plant tour from 1:00 – 2:30 on 9/18/18*
(Limited Space available)
Cost for each class individually
Member Rate: $795
Non Member: $885
Two classes back-to-back (save at least 10%)
Member Rate: $1,385
Non Member: $1,585
Click Here for more information on the R&M Implementation Certification Program.
Tuesday, September 18 at 7:30am to 4:30pm
Nissan Training Center 663 Ken Pilkerton Dr. Smyrna, Tennessee 37167
Event Type

Topic

Audience

Website
Department

Contact Email

Contact Phone

865-974-9625

Subscribe