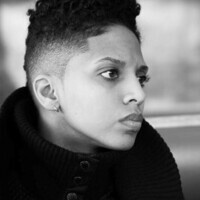 Janaya Khan Resist: Being a Force for Positive Change
With a timely message about the transformational power of protest, Janaya Khan is a leading activist who engages audiences in a profound discussion about social justice and equality.
Known as 'Future' within the Black Lives Matter movement, Janaya is a black, queer, gender-nonconforming activist (pronouns: they, them, theirs), staunch Afrofuturist and social-justice educator who presents an enlightening point of view on police brutality and systemic racism.
Janaya has been honored with several awards, including the 2015 Bromley Armstrong Humanitarian Award, and has been featured in media outlets, including the Feminist Wire, RaceBaitR, and The Root. Janaya currently serves as executive director of Gender Justice LA, a grassroots multi-racial coalition of transgender people and allies.
Sunday, January 21, 2018 at 7:00pm to 8:00pm
Alumni Memorial Building, Cox Auditorium
1408 Middle Drive, Knoxville, TN 37996
Event Type

Topic

Audience
Cost

$5

Department

Hashtag

Contact Name

Kendy Altizer

Contact Email

Subscribe