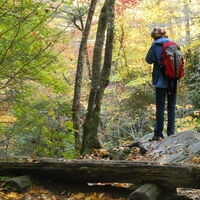 Nature & Travel Photography
In this stimulating non-credit course you'll both discover and capture the beauty of landscapes, wildlife, and all aspects of nature.
Whether you're taking a walk through the park, traveling to an exotic jungle or desert, shooting from a distance, or capturing close-ups, you'll learn skills to take stunning photographs of the natural world that surrounds us.
Instructor Kendall Chiles will also cover the basic principles of exposure, metering, light, and composition.
Two field trips will be included as part of the eight-session course.
The course is offered through UT Conferences & Non-Credit Programs.
Thursday, April 26 at 7:00pm to 9:00pm
UT Conferences Center, 4th Floor
Event Type

Topic

Audience
Cost

$249

Department

Hashtag

Contact Name

Darrin Devault

Contact Email

Contact Phone

865-974-0150

Subscribe