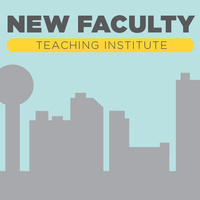 New Faculty Teaching Institute
As new faculty at UT Knoxville, you will come to find that faculty have access to a wide variety of supportive services and resources that will help make your experience here extremely rewarding. To provide our students with the unique Volunteer Experience, it begins with you: our faculty. Therefore, we would like to invite you to the 2018 New Faculty Teaching Institute (NFTI) on August 9 and 10, 2018 in Strong Hall.
The NFTI provides new faculty with important information about student demographics and key campus resources to help them more effectively teach, support, and engage students in and out of the classroom. The Institute also gives faculty critical information related to the university's teaching policies and support services, and offers opportunities for them to network and build relationships with other faculty from diverse disciplines across UT Knoxville.
Friday, August 10, 2018 at 8:00am to 5:00pm
Strong Hall, Strong Hall Atrium
1621 West Cumberland Avenue, Knoxville, TN 37996
Event Type

Topic

Audience

Website
Department

Hashtag

Contact Name

Teaching & Learning Innovation

Contact Email

Contact Phone

(865)974-3807

Subscribe