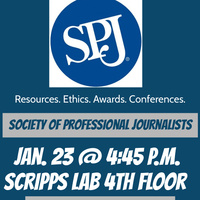 SPJ Spring Meeting
Society of Professional Journalists
The University of Tennessee's student chapter of the Society of Professional Journalists will be hosting their first meeting and program of the Spring 2018 semester.
On Tuesday January 23 at 4:45 p.m. the organization will be having a meeting discussing their workshops, fundraising, and meetings for the remainder of the semester. This meeting will be taking place in the Scripps Lab on the fourth floor of the Communications building. All are welcome to join.
The following Saturday, January 27th, at 10p.m. the organization will be holding a kickoff workshop. This workshop is geared specifically towards joining the workforce. They will have resume critiques, a LinkedIn Seminar, and professional headshots. All are welcome to come!
We hope to see all journalists there!
Any questions or if you are interested in joining please email Savanna Jacoby at sjacoby@vols.utk.edu.
Tuesday, January 23, 2018 at 4:45pm to 5:45pm
Communications Building, Scripps Lab
1345 Circle Park Drive, Knoxville, TN
Event Type

Topic

Audience
Department

Contact Name

Savanna Jacoby

Contact Email

Subscribe