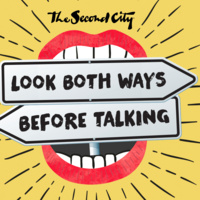 The Second City: Look Both Ways Before Talking
Let someone else face your small talk fears head-on! Instead of avoiding Grandpa and de-friending your old high school pals, see The Second City's brand new sketch comedy and improv revue, LOOK BOTH WAYS BEFORE TALKING. We're diving right into every touchy subject you're thinking about, but are afraid to say out loud…or online.
Edgy, thought-provoking and always spectacularly funny​,​ The Second City is celebrating nearly six decades of producing cutting-edge satirical revues and launching the careers of generation after generation of comedy's best and brightest.
If the event is not sold out, tickets will also be available at Cox Auditorium starting at 6:30PM on the night of the show.
*Opted-in students still need to reserve their free ticket at Knoxvilletickets.com
Performing social and political satire in 2 45-minute acts of scripted scenes, music, and improvisation, THE SECOND CITY TOURING COMPANY is always original, daring, and hilarious. Their alumni list is a veritable "Who's Who" of comedy including Bill Murray, John & Jim Belushi, Mike Myers, Steve Carell, Julia Louis-Dreyfus, George Wendt, Tina Fey, Rachel Dratch, Horatio Sanz, Tim Meadows, Joan Rivers, John Candy, Stephen Colbert, Chris Farley, Harold Ramis, Jane Lynch, Aidy Bryant, Steven Yeun, Keegan-Michael Key, Jack McBrayer, Jason Sudeikis and so many more.
Monday, January 29 at 7:30pm
Alumni Memorial Building, Cox Auditorium
1408 Middle Drive, Knoxville, TN 37996
Event Type

Topic

Audience

Website
Cost

$10 for General Public. Free for Opted-In UTK Students.

Department

Subscribe