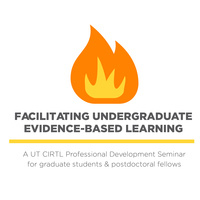 UT CIRTL: Facilitating Undergraduate Evidence-Based Learning in STEM
Are you a graduate student or postdoctoral fellow interested in learning more or enhancing your teaching? Join Teaching & Learning Innovation for this summer's "Facilitating Undergraduate Evidence-Based Learning (FUEL) in STEM" professional development seminar.
This 6-module professional development seminar introduces participants to a disciplinary exploration of teaching and learning practices employed primarily in undergraduate STEM courses. Graduate students and postdoctoral fellows can enjoy a number of benefits from participating in UT CIRTL FUEL:
Earn the internationally-recognized CIRTL Associate Certification, which can be included in a teaching portfolio or on a vitae
Develop knowledge about the most current teaching and learning research
Apply the concepts of evidence-based teaching strategies, learning through diversity, teaching as research, and learning communities to one's current teaching experience
Build a learning community with like-minded students from different disciplines to think about and discuss various topics related to teaching and learning
Register by visiting https://teaching.utk.edu/utcirtlfuel/.
Wednesday, May 30, 2018 at 5:30pm to 7:30pm
Strong Hall, Room 106
1621 West Cumberland Avenue, Knoxville, TN 37996
Event Type

Topic

Audience

Website
Department

Hashtag

Contact Name

Dr. Ferlin McGaskey

Contact Email

Contact Phone

865-974-3931

Subscribe